15 Nigerian Celebrities Who Died Before The Age Of 40
Life, they say begins at 40. These beloved Nigerian celebrities shown below sadly didn't get to reach that age.
They are living proof that dying young is truly tragic and heartbreaking.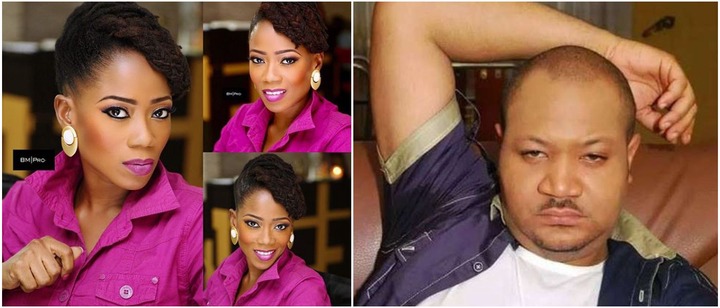 We as Nigerians do appreciate the memories they left behind. They lived their dreams and left a mark and for that they will always hold special places in our hearts.
They will never be forgotten.
This is a list of 15 Nigerian celebrities who died young – before the age of 40.
As you read this, please say a prayer for their families. May their souls rest in perfect peace.
MUNA OBIEKWE:
Beloved Nollywood actor Muna Obiekwe was a household name in Nigeria until he died on Sunday, January 18, 2015 after a long battle with kidney disease.
He was only 36 years old.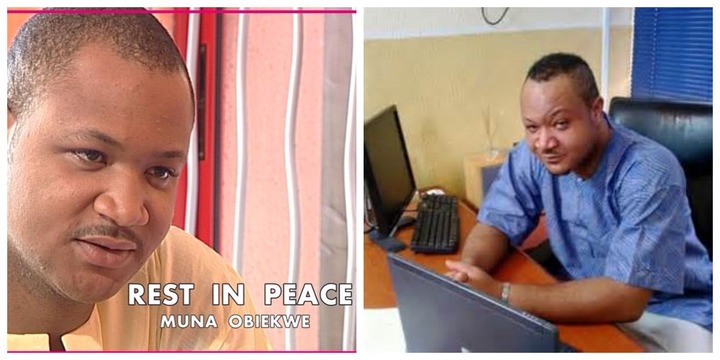 He was married to Gift Obiekwe and the marriage was blessed with two beautiful kids. Muna kept his marriage, personal life away from the public and avoided press and media attention.
It is not easy for widows in Africa especially to survive but to the grace of God, the late actor's wife has been pushing through with the kids.
DAGRIN:
Promising rapper, Olaitan Olanipekun better known as Dagrin, from Ogun state, left Nigerians devastated when he died on April 22, 2010, 8 days after he was involved in a ghastly car accident in front of Alakara Police Station, off Agege motor road, Mushin, Lagos.
He was only 25 years old. The accident had happened April 14th, 2010.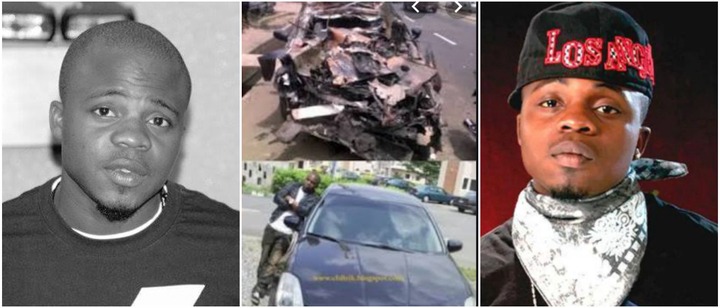 Dagrin was a rap star. His sophomore album 'was the hottest thing on the streets late 2009 and 2010. He was widely regarded as the new rap messiah. His brand of reality rap – a hustler's dream, ambition and nightmares resonated with millions of young Nigerians who were going through the same struggle. Dagrin was their mouthpiece.
Dagrin left behind a blossoming career and heartbroken parents, fans. A biopic titled Ghetto Dreamz has since been produced to celebrate the Ogun state born rapper.
Dagrin's ill-fated car, Nissan Maxima was a 2008 model and carried the number plate, DAGRIN 03.
His Twitter ID was @Dagrinfimile, Facebook was Dagrin fimilejo. He had 4,930 friends on Facebook.
The last time he logged on to Twitter was on Thursday April 8, 2010.
He got the nickname Barack O'Grin from the remix song he did with General Pype titled 'Champion'.
KEFEE:
Beloved top gospel singer, Kefee Obareki died of lung failure in a Los Angeles hospital on Thursday, June 12, 2014 after being in a coma for 15 days.
She was married to popular OAP, Esosa Don Momoh at the time of her death after her 3 years marriage to first husband Alec Godwin ended in 2008.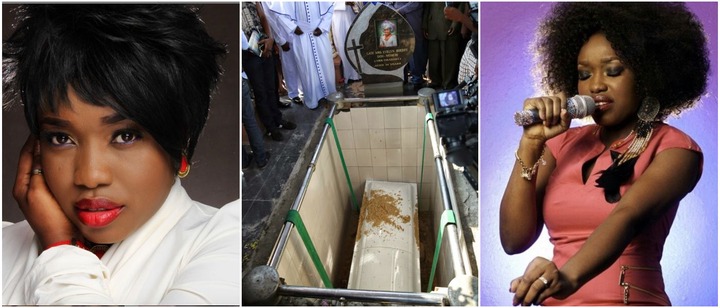 She married radio host Teddy Esosa Don-Momoh on 3 March 2013 in Sapele, Delta state.
Kefee died at the age of 34. She was buried amid tears on Friday July 11, 2014 in her hometown Okpara Inland, Ethiope East Local Government Area of Delta State, Nigeria.
GOLDIE:
Nigerian singer and Big Brother Africa star Susan Oluwabimpe "Goldie" Filani Harvey had a budding career and had established herself as one of the buzzing female musicians in Nigeria before she suddenly died on 14 February 2013.
She was only 31 years old.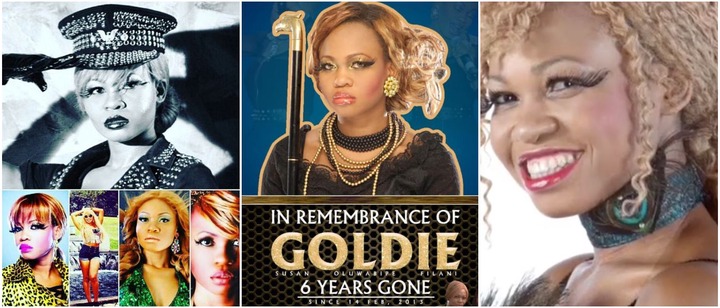 Goldie died after returning home to Nigeria from the 2013 Grammy Awards in Los Angeles, California, USA. She had complained of a headache and was rushed to hospital where she was later pronounced dead.
According to an autopsy conducted by the Department of Pathology and Forensic Medicine of the Lagos State University Teaching Hospital, Goldie died of 'hypertensive heart disease,' which triggered an "intracerebellar hemorrhage."
Goldie was buried at the Vaults and Gardens, Ikoyi, Lagos on the 25th of February, 2013.
Goldie was married to Andrew Harvey, an engineer based in Malaysia, in 2005, though this fact was not widely known before she died.
MC LOPH:
MC Loph's career was on the rise, his song was already becoming a fan favorite across the country when his dream of getting to his peak was killed by his death.
MC Loph died in an auto accident on Benin-Ore expressway on September 14, 2011. He was only 33 years old.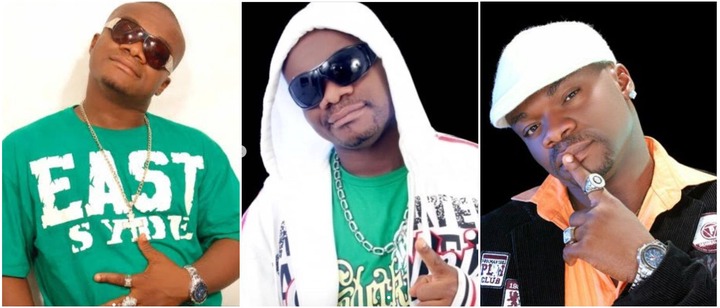 Nwaozo Obiajulu aka MC Loph died together with his sister Chinwe in the car accident while en route to his home town on September 14 for his traditional wedding.
They were buried at their family compound, Ugwuaro, Anambra State. Loph's only sister, Chinwe, was buried on Wednesday while the singer's remains was laid to rest on Friday October 28, 2011.
Mother of the late Osondi Owendi crooner, Mc Loph, Mrs. Obiajulu who was left heartbroken with the death of her two children later died in 2013.
FADA U-TURN:
One of Nigeria's most popular 90s musicians Olufemi Mayomi, a.k.a Fada U-Turn, died on Sunday, November 17, 2013 due to a kidney related disease. He was only 36 years old.
Fada U-Turn was buried on the same day in Badagry, Lagos.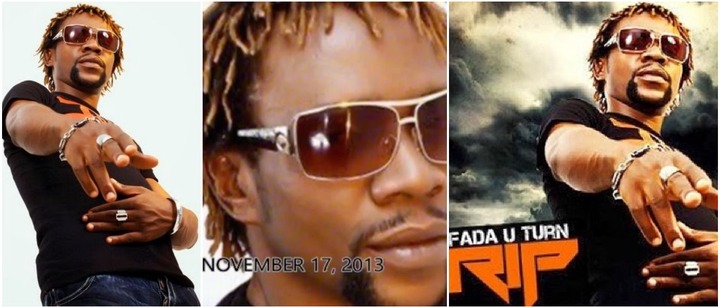 He died in a hospital around Okokomaiko where he was on admission for 10 days before he passed on. He was survived by his siblings, wife Ajimoh and five children.
Fada UTurn who rose from poverty as an orphan, built a successful career as a songwriter, recording artiste, TV presenter and performer. He was from Kabba-Bunu in Kogi State.
BISI KOMOLAFE:
It was indeed another dim moment for the Nigerian entertainment industry when the death of budding actress, Bisi Komolafe occurred.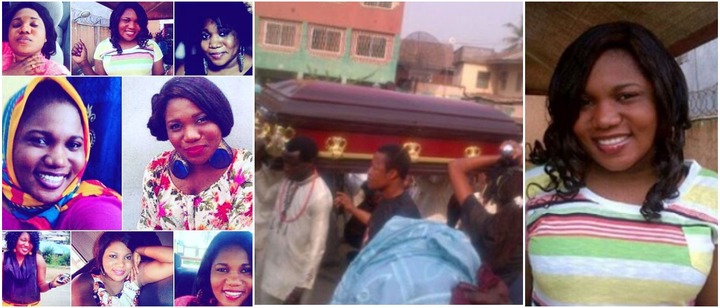 The pretty actress who was a product of Lagos State University died on December 31, 2012 at the University Teaching Hospital, Ibadan as a result of pregnancy-related complications. She died at the age of 27.
She was buried on January 4, 2013[10] in Ibadan.
NELSON GOLD:
Nelson Gold was a Nollywood budding actor with a promising future.
According to reports, the fast-rising actor and graduate of the University of Nigeria, Nsukka, slumped at a movie location in Enugu and was rushed to the hospital, he remained in a coma until he passed on 15th June 2018.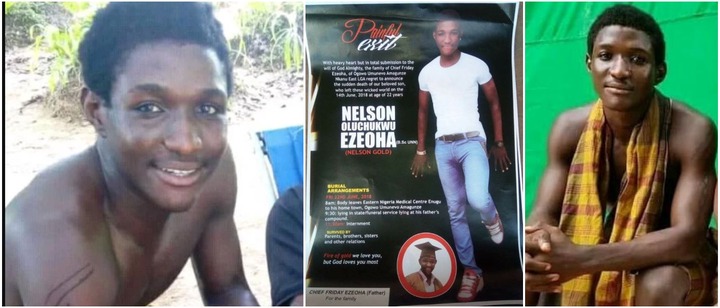 Nelson died ten days after he celebrated his birthday, which was 5th of June 2018. He was buried at his hometown in Enugu State.
Nelson was a talented Nigerian actor and screen writer who broke into Nollywood after playing a lead role in a movie titled "Black Child", where he stared alongside top notch actors.
The Movie Black Child launched Nelson into the mainstream after being produced in Nigeria by JP Nwanganga.
It made Nollywood producers to nickname Nelson the "Nollywood's Mad Actor" following the mind blowing performance he displayed in the movie.
OLAMIDE DAVID:
Olamide David was a Nigerian male child actor best known for playing a lead role in the movie Cobweb.
He won the "Best Male Actor Award" at the 2015 edition of the Best of Nollywood Awards after he had been previously nominated in the same category at the 2013 and 2014 editions.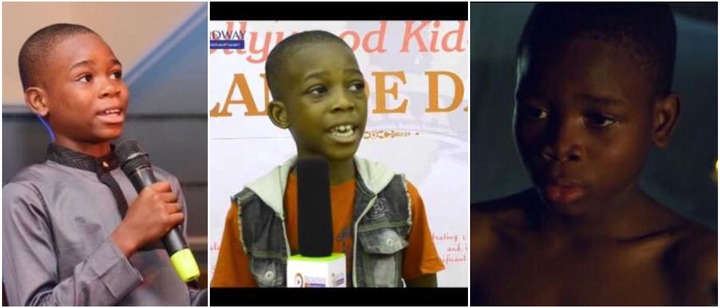 The 15 year old boy died on January 18, 2016, at Ikeja General Hospital after sustaining a fatal abdominal injury while playing football.
Olamide was said to have been mistakenly kicked in the stomach while playing football with his friends.
OKWY CHUKWUJEKWU:
On Tuesday, September 5th, 2017, 27-year-old upcoming actor Okwy Chukwujekwu popularly known as 'Main Boss-man' suddenly slumped during the shooting of a movie.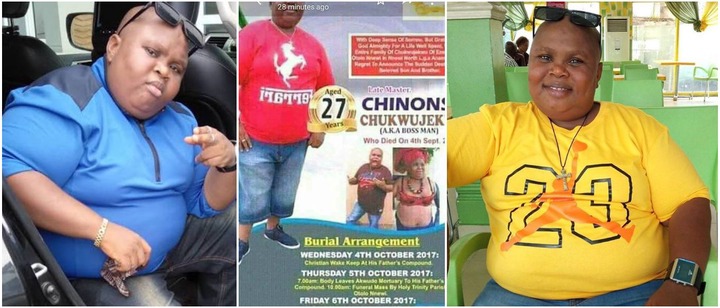 Autopsy result revealed an asthmatic attack was the cause of his death. The big-sized actor was buried October 5th 2017 at his hometown Otolo Nnewi, Anambra state.
CLEM OYENKA:
Nollywood actor Clems Onyeka was shot and killed October 14, 2014 in crossfire between police and armed robbers in Asaba, Delta State.
All banks operating in Asaba had hurriedly closed down operation during the cross-fire between operatives of the Delta State Police Command, military men and men of the underworld who attempted to hijack a bullion van.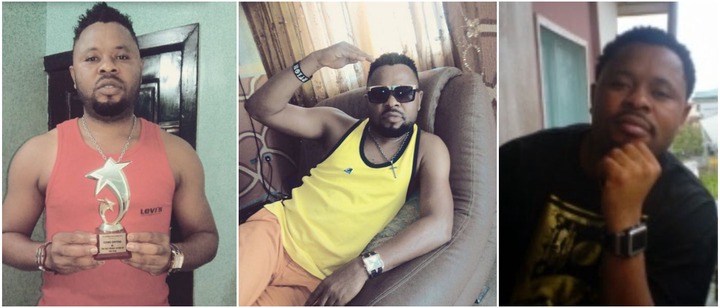 The 37-year-old actor was shot along Summit Express, Asaba, Delta State while the police and armed robbers engaged in a fierce gunfight.
He died on the spot.
An eyewitness said the van was ambushed around 2pm along DBS road, Asaba, by the armed robbers, who were operating in Jeep and Sienna cars.
In the process of trying to seize the van, the police escort resisted, resulting in a severe gun battle between the robbers and the police.
According to sources, the armed robbers succeeded in killing a police officer, while one of the armed robbers was said to have been shot by the officer.
A stray bullet hit and killed Onyeka, while he was returning from a filming location.
When the robbers realized that the police was gaining the upper hand, they escaped with their wounded colleague.
The deceased actor was buried at his father's compound in Ikeduru, Imo state.
ZARA GRETTI:
Popular singer, Zara died in her prime on March 28, 2014 after a battle with Multiple Sclerosis. Born Margret Oluwatoyin Ejiro Joseph, Zara died at the age of 28.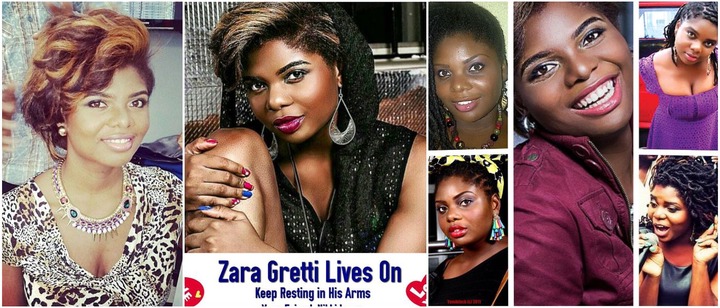 Zara Gretti passed away at her home in Ogba, Lagos after battling with Multiple Sclerosis (an inflammatory disease in which the nerve cells in the brain and spinal cord are damaged) for over a year.
The multi-talented Nigerian-American born singer was known for her hit songs including "Aboko ko", "The Flyest" and "Teno".
ADEBIMPE ADEKOLA IRETI:
Adebimpe Adekola popularly known as Ireti was a popular 90s actress who was the leading female in the Yoruba sector of the Nigerian movie industry.
She died on Friday, September 27, 2002. Ireti was in her early 30s.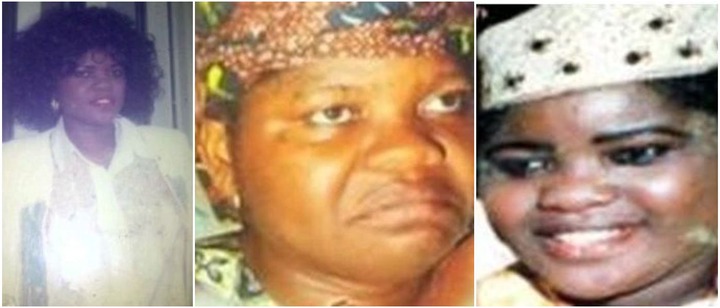 In the 1990s before the likes of Jenifa and the rest, Nigerian actress, Rebecca Adebimpe Adekola graced the screen of millions across the nation, especially lovers of Yoruba movies.
Popularly known as Ireti, she dazzled many with her acting skills until her death.
On the 30th September, 2002, her body in a glistening white coffin was on display for her last public appearance at the National Theatre, Iganmu Lagos before her burial.
Rebecca Adebimpe Adekola died after a brief illness due to some complications suspected to be from typhoid fever. She gave up the ghost at Unity Hospital, a private medical center in Surulere, Lagos State.
TOSYN BUCKNOR:
Nigerian media personality Oluwatosin Tosyn Bucknor died November 19, 2018 due to complications from sickle cell.
Tosyn was found dead by her husband, Aurelien Boyer, when he arrived home from work on 19 November 2018.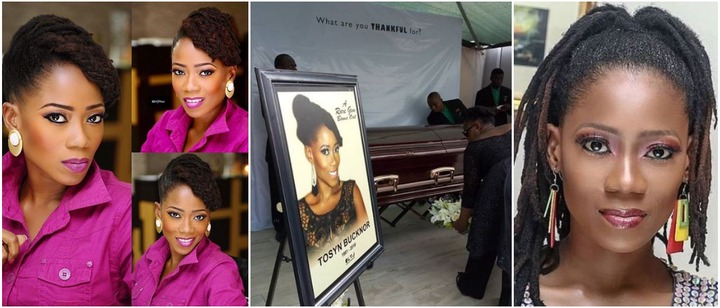 Tosyn was born with sickle cell anaemia. She was a Nigerian media personality, actress and social media content creator. She died at 37 years old.
ALIZEE AND DAUGHTER PETRA:
Nigerian singer, Zainab Nielsen, aka, Alizee, and her three-year-old daughter, Petra, were allegedly murdered on April 5, 2018 by the singer's Danish husband, Peter Nielsen, in their residence at Bellasta Towers, Banana Island, Ikoyi.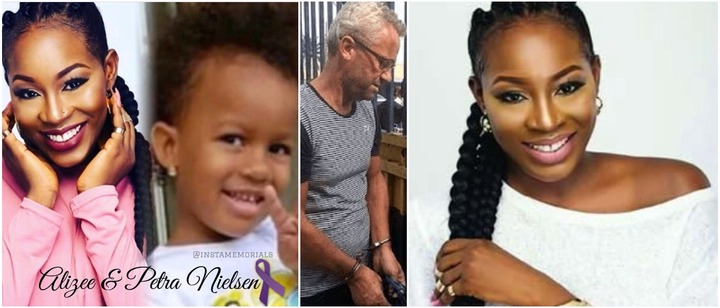 Reports say Peter hit his wife's head on the wall several times leading to her death and then proceeded to poison his daughter before dragging his wife and daughter's lifeless bodies to the kitchen under the gas to create the impression that they suffocated to death as a result of a gas leakage.
53-year-old, Peter Nielsen, pleaded not guilty to the charges preferred against him and was remanded in Ikoyi Prisons on the orders of a Yaba Chief Magistrates' Court.
Zainab was only 37 years old while her daughter was just 3 years at the time they were killed.
May their souls rest in perfect peace.